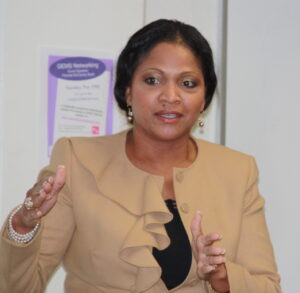 On May 28, 2020, Dr. Pamela McCauley was officially named the Associate Dean for Academic Programs at NC State University. Additionally, she will serve as a full professor in the Department of Textile and Apparel, Technology and Management. After her distinguished 27-year career with the University of Central Florida, where she served as professor and director of the Ergonomics and Human Factors Laboratory in the Industrial Engineering and Management Systems Department, she is thrilled by the opportunity to help NC State evolve and expand. 
Dr. Pamela McCauley, Associate Dean for Academic Programs
As the ADAP, Dr. McCauley will lead NC State University's Center for Academic, Career, and Student Services. According to the Wilson College of Textiles website, "Fundamental to our achievement is the development of graduates who are innovative and adaptable and can lead with high integrity, a foundation of relevant and interdisciplinary applied technical knowledge, and strong communication and leadership skills." Dr. McCauley's research and experience will help her guide students into their own remarkable futures. 
The Wilson College of Textiles strives to become a global leader in textile innovation, putting a focus on environmental consciousness and sustainability. In today's economic and public health environment, Dr. McCauley's position as ADAP is critical in solving major challenges around the world. Students in this department focus on issues from new textiles to help protect armed forces, to sustainable fashion.
A Passionate Educator and Skilled Administrator
Dr. McCauley has demonstrated her passion as an educator and her skills as an administrator from the beginning of her career. She has received many awards in her lifetime, including the Women of Color Magazine 2019 Technologist of the Year Award. She also served as a Jefferson Science Fellow at the U.S. Department of State in 2015-2016. Before that, in 2012, she was awarded a Fulbright Specialist Award to pursue research in New Zealand.
Currently, Dr. McCauley serves as the program director for the National Science Foundation Innovation Corps Program, Computer Information Science and Engineering Directorate. A staunch advocate for her profession, she has served in leadership roles for numerous professional societies and civic organizations; she is a sought-after motivational speaker known for her commitment to encouraging women and underrepresented students to pursue STEM study and careers.